Winches are probably the most flexible and versatile tools we have available. They can be used for flying scenery, pulling scenery along floor tracks, used for driving lifts, revolves, slider trusses…
Winches work by either paying off, or winding up their rope on to a grooved drum. The grooves keep the wire rope neatly on the drum. To fly a piece of scenery out, you wind the wire ropes attached to the scenery on to the drum which hauls it out. To fly a piece of scenery in, you unwind the wire ropes on to the drum which lowers it in.
You can also attach both ends of the wire rope to a drum, to create a loop. This means as the wire rope is paying out from one side of the drum, it is winding it in on the other. Using a loop of steel wire rope how you can power sliders, floor tracks and lifts.
We stock various winches which can perform different tasks and are available for rental. We also commission winches from our engineering partners for specific jobs or to meet your requirements.
Counterweight Winch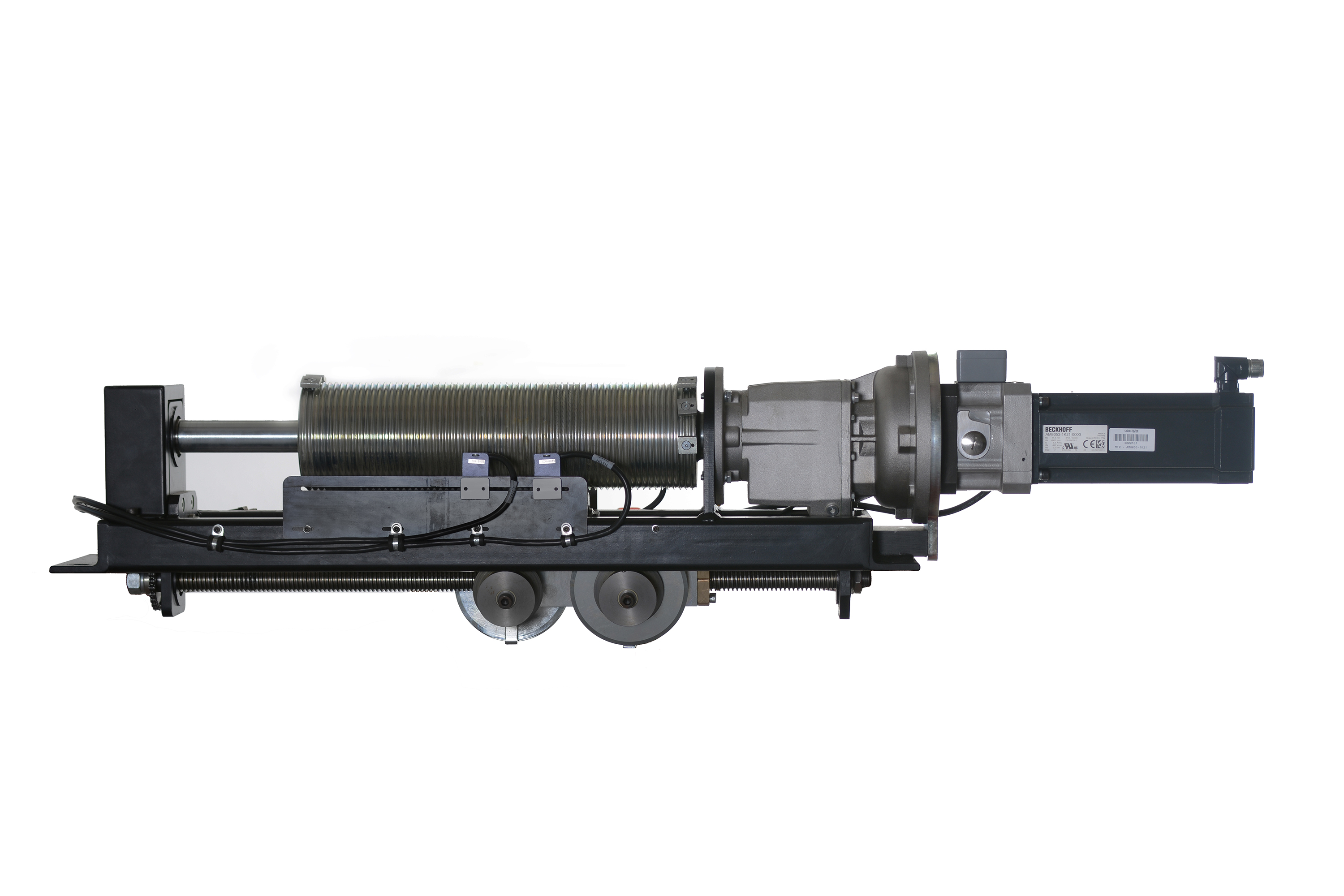 Our counterweight winch is designed to be mounted directly to a counterweight frame. The "zero-fleet" design allows the winch to take up the least amount of space, so that multiple winches can be mounted alongside each other. Two pulleys move along the back of the winch, ensuring that the wire rope takes off from the drum at the perfect angle.
Because of their small footprint, these winches may also be suitable for using on floor tracks or flying slider trusses where space is limited.
| | |
| --- | --- |
| Safe Working Load | 175kg |
| Max Speed | 1200mm/s |
| Rope Size | 6mm |
| Stroke | 20m |
| Dimensions | 1350 x 200 x 245 mm |
The winch has adjustable high and low, primary and secondary limits.
Drum Winch – Two Line
Our two line, drum winch is designed for lifting. It can be mounted in a standard sized truss, with the lifting lines coming directly from the winch. This makes it ideal for mounting directly above the load to be lifted.
It can also be mounted at floor level with lines diverted as required. The line spacing from the winch has two different spacings and can be quickly adjusted if the lines need to be closer together, or further apart.
Dual independant brakes, on the input and output sides of the gearbox, give the maximum level of safety.
Our standard controls are incorporated into the winch, allowing local manual control making installation quick and easy.
| | |
| --- | --- |
| Safe Working Load | 190kg (2 lines), 125kg (1 line) |
| Max Speed | 1140mm/s |
| Rope Size | 5mm |
| Stroke | 20m |
The winch has adjustable high and low, primary and secondary limits, and cross groove detection.
Mini Winch – One/Two Line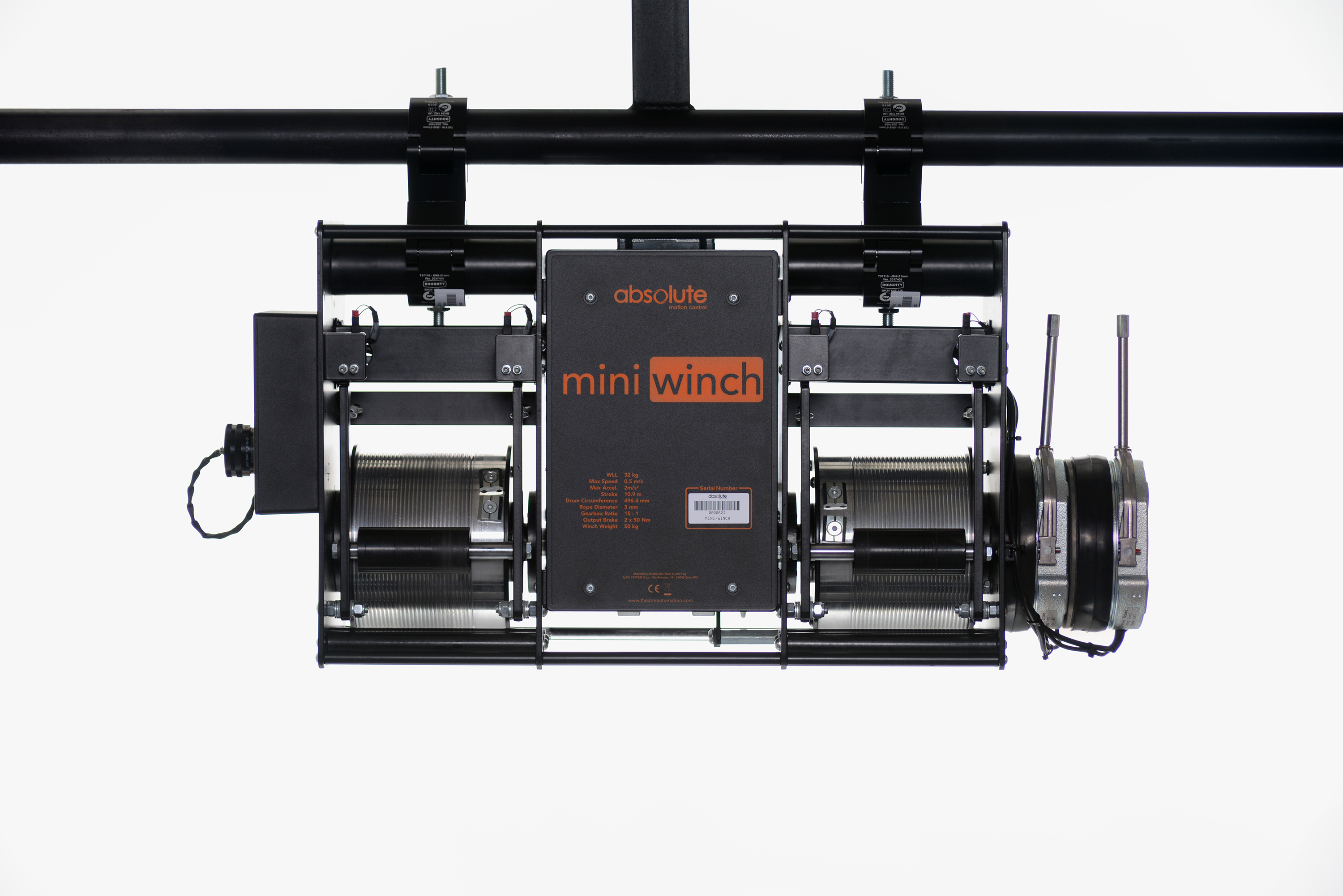 Our innovative new Mini[Winch] comes in single and dual-drum configurations. They are designed to fit directly onto fly bars or mounted in the grid. With dedicated control boxes, that can be mounted next to the winch, installation is simple and fast.
Rather than use counterweight-assist winches to automate a whole bar, these Mini Winches can be used to directly lift the set or prop that needs to be flown.
| | | |
| --- | --- | --- |
| | Single Drum | Dual Drum |
| Safe Working Load | 32kg | 32kg |
| Max Speed | 500mm/s | 500mm/s |
| Rope Size | 3mm | 3mm |
| Stroke | 10.9m | 10.9m |
| Winch Weight | 42kg | 50kg |